News
More Lessons posted
(added December 16, 2020)
All four subject areas of focus for the project, now have lessons posted for each grade, from grade 1 to grade 8. The Coding lessons are complete, as previously reported, and a number of Financial Literacy lessons have also been completed. New to some grades is now at least one Numbers lesson, with a focus on Fractions, and also at least one Mathematical Modelling lesson.

Coding Lessons now posted
(added November 20, 2020)
Over the last week we posted the first set of lessons and assessment plans. The Coding lessons for Grades 1 to 8 are now available, in English and French. There are also a few Financial Literacy lessons that tie in with a Coding lesson included. More lessons will continue to be uploaded over time.

First set of Lessons now available!
(added November 8, 2020)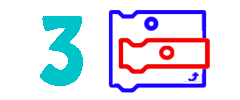 Eight lessons are now available, four in English, four in French, for Grade 3 teachers. The focus of these lessons is Coding. One of these is a follow-up to a Financial Literacy lesson which will be released soon. Stay tuned for more lessons to be released in the coming weeks. To access these lessons, click on the grade 3 button or the Coding icon.

Curriculum Context webinar recordings available
(added November 1, 2020)
The five webinars based on the Curriculum Context have now been completed, and the recordings for all five, including resource documents are available from the Webinars page.

Newsletter # 2 emailed
(added October 26, 2020)
If you have signed up for the Newsletter to keep you informed about updates on this website, you should have received Newsletter # 2 in your inbox this weekend. If you didn't see it, please check in your Junk or Spam folder (and mark it as "okay").

If you received the email in the wrong language, email the webmaster greg.clarke@oame.on.ca and he will change your subscription (and send you the one you missed in your preferred language).

Resource documents and Captions added
(added October 20, 2020)
All five Curriculum Context webinars now have a Google Doc available containing links to resources mentioned in the webinars, and more!

The Google Slide presentations for the first three Curriculum Context webinars are now available. Also, the webinars for those three (in English) now contain closed captioning. The captions have just been added for Webinars # 2 and # 3 today.

Note: These captions are turned off by default, but can be turned on if needed by clicking on the 3 dots setting button.

Webinars 2 and 3 - recordings now available
(added October 14, 2020)
The next two webinars in the Curriculum Context series are now available to view on demand. Go to the Webinars page, and jump to the Recordings section at the bottom of the page. For each of these two webinars, there is also available a Resources document filled with links to references and websites referred to during the presentations.

Webinar 1 - Vision, Goals, and Strands - recording now available
(added October 7, 2020)
The first webinar in the Curriculum Context series is now available to view on demand. Go to the Webinars page, and jump to the Recordings section at the bottom of the page. The slides used in the webinar are also available.

Sign up for OntarioMath.support newsletter
(added October 6, 2020)
Sign up today for a weekly newsletter to keep you up to date on all the latest postings and upcoming webinars on OntarioMath.support. Don't miss out when new content is added.

Dates revised for Webinars # 4 and # 5
(added September 21, 2020)
The dates for webinars # 4 and # 5 had to be changed, and they are now updated on the Webinars page. Registration is now open for all webinars in the series on Curriculum Context, including these last two.

Dates for Curriculum Context Webinars
(added September 17, 2020)
Descriptions for the first set of Curriculum Context Webinars can be found on the Webinars page. Pick a date and time and register now!
Curriculum Context Webinars:
Vision, Goals, and Strands
Program Planning
Mathematical Modelling
Social-Emotional Learning (SEL) Skills in Mathematics and the Mathematical Processes
Assessment and Evaluation
As more webinars and resources become available, this information will be added to the site. All webinars will be found in both the Webinars page and the dates will be placed into the calendar. The release dates of the Lesson and Assessment Plans for Coding, Financial Literacy, Number, and Mathematical Modelling will be added to the calendar, as will the dates of the accompanying webinars. The lesson and assessment plans themselves will be added to the Resources page.