About Google Docs
Many of the files and resources for this project are stored as Google Docs and/or placed inside Google Folders of a Shared Drive. The writing team must retain editing control over the original documents that were created by the project writers for all teachers of Ontario to access. As such, access is freely available, but in View Only mode.
However, you can make a copy for yourself which you can then modify as you wish. There are multiple ways you can do that:
(1) Click on the FILE menu, and you can
Save a copy to your own Google Drive by choosing

Make a copy

Download

a copy in many

different formats

, choose one that works best for you
If you just want a quick way to refer to the original, and not change anything, then use the "

Add Shortcut to Drive

" option, which will put a link to the original file in your own Google Drive. One advantage to using THIS option is that if there are additional changes, or new links added to the original Lesson and Assessment plan, they will show up automatically for you.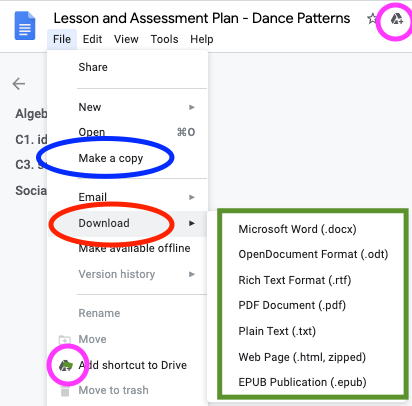 (2) If you do not have a Google account, you will still have access to the FILE menu and the Download options, so you can save a copy for yourself in any of those formats.
If you are still experiencing problems accessing the Webinar support files or any of the Lesson files, please contact the project webmaster.