Welcome to OntarioMath.support
The Latest News
Coding Lessons now posted
(added November 20, 2020)
Over the last week we posted the first set of lessons and assessment plans. The Coding lessons for Grades 1 to 8 are now available, in English and French. There are also a few Financial Literacy lessons that tie in with a Coding lesson included. More lessons will continue to be uploaded over time.

First set of Lessons now available!
(added November 8, 2020)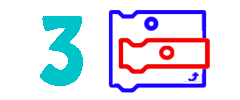 Eight lessons are now available, four in English, four in French, for Grade 3 teachers. The focus of these lessons is Coding. One of these is a follow-up to a Financial Literacy lesson which will be released soon. Stay tuned for more lessons to be released in the coming weeks. To access these lessons, click on the grade 3 button or the Coding icon.